Automatic Cryostat Microtome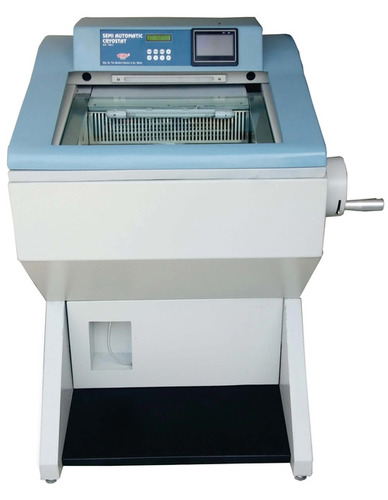 Automatic Cryostat Microtome
Product Description
Automatic Cryostat Microtome
SPECIAL FEATURES :
Motorized Feed Drive.
Dual Compressor for rapid freezing.
Arbitrary Switching between trimming & Sectioning.
Adjustable cutting angle.
Portable with 4 castors.
UV Sterilization.
Automatic and manual defrosting.
Blade Holder for finger safety.
Enclosed drainage system.
Anti-roll device.
Section counter.
Frost free encapsulated microtome assembly.
Visible operating parameters at all times.
User friendly control panel.
TECHNICAL SPECIFICATIONS:
Section Thickness Range :1m-60m
Setting Values: 1m-10m in 1m increments.

10m-20m in 2m increments
20m-60m in 5m increments.
Trimming Thickness Range: 10m-100m in 10 m increments.
Sectioning Speed Low: adjustable
Minimum Setting Value: 1m
Vertical stroke: 65mm
Specimen horizontal feed: 25mm
Motorized coarse feed: 480 m/sec.
Specimen retraction: 5-75 m, in 1m increments.
Specimen Orientation: x- and y-axes : universal 8o
Cryo Chamber Temp: -1 to -30oC Adjustable.
Cooling Downtime to -30oC.
Max. Specimen size : 35x35mm.
Quick Freeze Shelf: < - 50oC
Chamber Defrosting: Programmable or manual.
Lowest Temp. of Pettier Unit: - 50oC.
No. of Freezing Stations: 10.
Voltage: 220V
Contact Us
Near B.D High School, Ambala Cantt, Ambala Cantt, Haryana, 133001, India
Phone :+918037744478