Brass Dissecting Microscope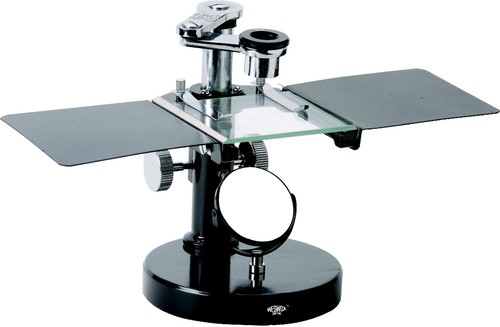 Brass Dissecting Microscope
Product Description
Brass Dissecting Microscope
TECHNICAL SPECIFICATIONS:
STABLE round base
STAGE Dimension 100mm X 100mm
JOINT Brass revolving arm for moving the magnifying lens over full range of the stage.
WIDE glass stage provided with spring stage clips has an easily removable thick glass plate with arrangement for inserting white or black plate respective background.
DETACHABLE Metallic handrests are provided for easy working during dissection.
SMOOTH rack & pinion mechanism operated by brass knobs on both sides for sensitive focusing.
PLANO-CONCAVE MIRROR in fork provides sufficient illumination in day light or under artificial light.
Packed in a Styrofoam moulded box with provision for placing eyepieces, hand rests and magnifying glass.
Black stoving finish and hard instrumental chromium plating will accent any classroom environment.
Warranty: 2 Years
EYEPIECES 10X & 20X.
Contact Us
Near B.D High School, Ambala Cantt, Ambala Cantt, Haryana, 133001, India
Phone :+918037744478