Digital Clinical Centrifuge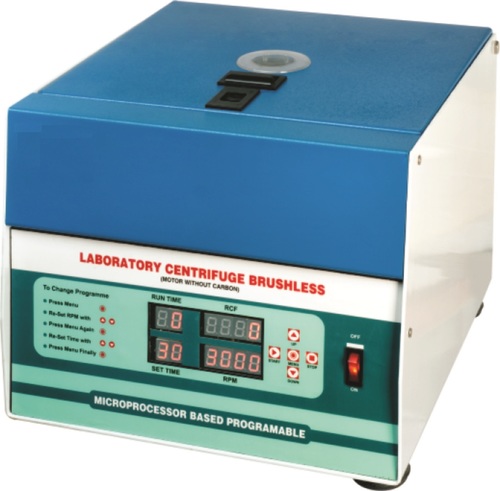 Digital Clinical Centrifuge
Product Description
GENERAL SPECIFICATION:
Bench top centrifuge to separate serum from blood and PCV,Cytology tests etc.
Max. speed 2850 RPM and RCF 1325xg.
Yo can verify on google at links : mentioned in last.
Machine can run throughout the day continuously .
No displacement on bench ,No vibration as motor fitted on anti vibration pads.
Low noise, less than 58 bars .
Fitted with brushless motor ,Brushless means motor without carbons.
Brushless motor are without maintenace free which can run upto 8hrs continuously without stop.
Warranty for 5years on WESWOX Brushless Motors.
Warranty for 14 Months on other part including electronic.
Fitted with swing out rotor ,swing out means centrifuge tube run horizontally like fan at 900.
To work on 220 Volts 50Hz- AC .Motor :500 Watt Approx.
Supplied with instruction manual ,cord and plug ,head puller,dust cover,spanner to pull out rotor head.
TECHNICAL SPECIFICATION :
Heavy duty C.R.C. construction finished with powder coating .
Double walled ABS injection moulded lid which is light weight to avoid accident.
Fitted with microprocessor based pre programmable speed controller to control speed from 500-2850 r.p.m. in thee interval of 250 R.P.M. Max. R.C.F. 1325xg.
Timer 0-59 minute and can be set in the interval of 1minute.
After the time is over a beap sound will come .
Last parameters recall automatically .
MODEL DESCRIPTION -WM-924 Hole for 24 Swing Out Type Rotor Head.
Contact Us
Near B.D High School, Ambala Cantt, Ambala Cantt, Haryana, 133001, India
Phone :+918037744478