Electric Needle and Syrine Destroyer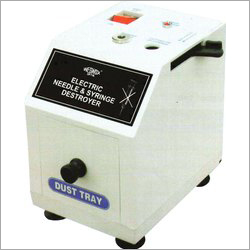 Electric Needle and Syrine Destroyer
Product Description
Electric Needle and Syrine Destroyer
Type : Portable and Electrical.
This is a moulded type, heat and shock proof & made of ABS plastic. A sliding tray made of the same material, with provision of aluminum material of thickness 0.8mm (min) inside, on the side walls as well as at the bottom of the tray shall be collection of the reduce of burnt needles and destroyed syringes lips. Suitable holes at the top, main hole of syringe is provided in the unit.
MANUAL CUTTER: It is having hardened blade of stainless steel material to cut the syringe lips.
Transformer Winding made of DOUBLE COATED copper wire.
Burning electrode must be made of copper material.
CAPACITY: The unit is having adequate capacity to destroy all kinds and following sizes of injection needles. Body length 12.5 mm to 80mm and dia ranging from 0.4 mm to 2mm dia.
POWER REQUIREMENT: 230V10%(50Hz)
Power ON/OFF switch is provided in the unit along with an indicator, the unit is provided with fuse of adequate rating. It is completed with power cord of 3 metres length and an earthing point.
POWER CONSUMPTION: Maximum upto 3 watts in standby mode. Current flow maximum upto 5amp at 230 volts during operation depending upon the dia and length of needle.
DIMENSION APPROX: W 12.5cm, 0.5cm, L 17.5cm0.5cm, H 17.5cm0.5cm
Weight: Minimum 2.5 kg.
Warranty: 1 year replacement warranty against any defect.
Certification: ISO 9001:2015, ISO 13485:2016 & GMP Certified.

Standard Accessories:
Dust cover
Instruction manual
Cleaning brush
Mini screw driver
Knife spring
Warranty card
Spare fuses-2 nos.
Cleaning cloth
Burning electrode set with PTFE insulation.
Contact Us
Near B.D High School, Ambala Cantt, Ambala Cantt, Haryana, 133001, India
Phone :+918037744478