Fluorescence Trinocular Research Microscope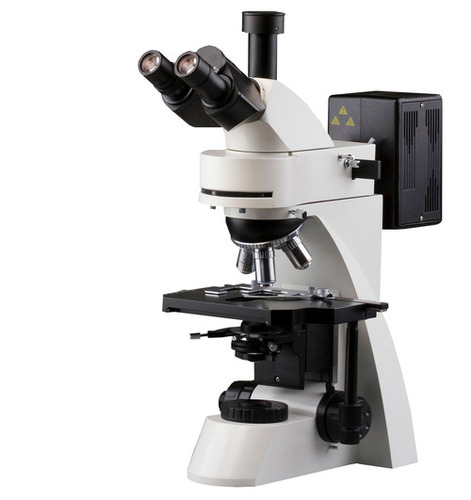 Fluorescence Trinocular Research Microscope
Product Description
TECHNICAL SPECIFICATIONS
Stand : Single mold sturdy stand with anti rust materials. Extended base for better stability.
Observation Head : TRINOCULAR observation head inclined at 30o and 360 o rotatable. Diopter adjustment ring on ocular tube interpupillary distance from55 to 75mm.

Eyepiece : Wide Field Eyepiece 10x (PAIRED) FOV 22mm anti-fungal with diopter adjustment.
Nosepiece : Reverse angle quadruple nosepiece revolves on ball bearing with positive indexing. Soft rubber knurled grip on nosepiece.
Objectives INFINITY CORRECTED
Plan Achromatic objective 4x.
Plan Achromatic objective 10x.
Plan Achromatic objective 40x (SL).
Plan Achromatic objective 100x (SL) Oil Immersion.
Stage : Mechanical stage with Size 145mmx142mm, supported on ball bearing guide ways and having low positioned co-axial controls for stage movement.
Focusing : Co-axial focusing control with ball bearing guide ways & large knobs, pre focusing lever & tension adjustment ring and rubber tubes for excellent grip. The slow motion has 1DIV=0.002mm.
Condenser : Abbe condenser NA 1.25 with iris diaphragm.
Illumination : Built-in base illumination system incorporates LED Lamp , AMPS and intensity Control knob.

Filter
B Excitation Standard
G Excitation Standard

V Excitation Standard
UV Excitation Standard
Light Source : Transmitted light source: 3W LED bulb integrated field diaphragm. Epi-fluorescence illumination through 100 watt mercury vapour lamp.
Packaging contents : Fuse Tube, Power Cord, Instruction Manual, Dust Cover, STYROFOAM molded box.
Warranty Information
2 Years parts.
1 year Electronics.
Contact Us
Near B.D High School, Ambala Cantt, Ambala Cantt, Haryana, 133001, India
Phone :+918037744478