Medical Centrifuge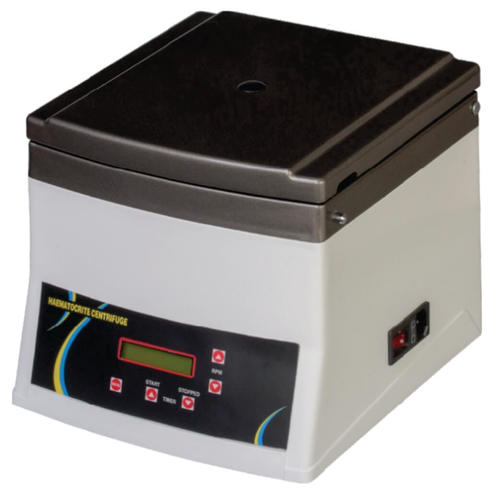 Medical Centrifuge
Product Description
SPECIAL FEATURE :
Elegant design
Fitted with anti vibration pads
Motor remain cool even after running full time
Very stable
Low in noise
Corroson free outer structure
SPECIFICATIONS:
Hematocrite Centrifuge Machine ,Max.speed 13000r.p.m.
Compact body which is made of plastic injection moulded.
Inner safety bowl made of stainless steel
Fitted with well balance universal motor having long life with high grade carbons.
2Lines of 16characterLCD Display r.p.m., r.c.f., set and run time .
Last test parameter recall and displays automatically on LCD .
Microprocessor based Digital timer of range 0-99 min.
Preset speed controls thru microprossor from 2000 to 13000 r.p.m. in interval of 100rpm.
SUPPLY COMPLETED WITH FOLLOWING ACCESSORIES.:
Micro Hematocrite rotor to accommodate 24 capillaries of 75mm x 1mm or 12 capillaries.
Rotor cover made of polycarbonated.
Heparinised capillary tubes 75mm long 1mm bore (Pack of 100 Nos.)
Non "Heparinised capillary tubes 75mm long x 1mm bore (Pack of 100 Nos.)
Reading device.
Sealing wax-1 tray .
Dimension of machine : L=290CM ,W=270mm, H =240mm
Weight of Machine : 9.5kg .appox.
Dimension of box : L-355mm x W-35 x H-340mm
Weight of Box = 11kg Appox.
Hematocrite Centrifuge(BRUSHLESS)( WITHOUT CARBON)
All specification are some as above but in this model the motor is Brushless (without carbon) but maximum speed 11500rpm
Contact Us
Near B.D High School, Ambala Cantt, Ambala Cantt, Haryana, 133001, India
Phone :+918037744478