Research Fluorescence Microscope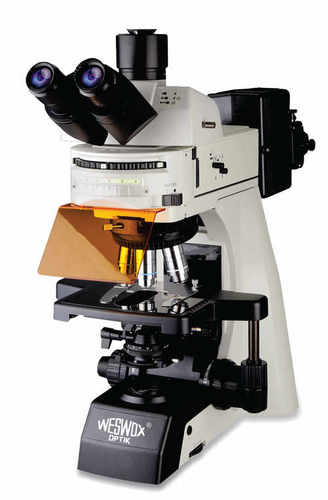 Research Fluorescence Microscope
Product Description
Trinocular Observation Head : Siedentopf observation head inclined at 30 rotatable at 360 . Vertical phototube for micro photography. Diopter adjustment ring on ocular tube ( 5). Inter pupillary distance from 48mm to 75mm.
Eyepiece (Anti fungus) : 10X/25mm with diopter adjustment.
Objectives (Anti fungus coated)
FLUOR Plan Achromatic 2X
FLUOR Plan Achromatic 4X
FLUOR Plan Achromatic 10X
FLUOR Plan Achromatic 20X
FLUOR Plan Achromatic 40X
FLUOR Plan Achromatic 100X
Mechanical Body : Co-axial focusing system with large knobs, pre-focusing lever & tension adjustment ring.
Nosepiece : Reverse angle sextuple nosepiece on ball bearing.
Stage : Double Plate rack-less Mechanical stage is 187mmX168mm Slot for Polarizer and DIC. The mechanical stage has low positioned co-axial controls on ball bearing guide ways.
Focusing : Fine division 0.001mm course, per rotation, fine stroke 0.1mm per rotation, moving range: 80mm X 55mm.Built in transmitted filter LBD/ND6/ND25.
Sub-stage Condenser : Swing out front lens, Abbe condenser N.A. 0.9/0.25, filter holder & iris diaphragm
Excitation Filters (Optional)
B Excitation (400-490nm) standard
G Excitation (510-550nm) standard
UV Excitation (330-385nm) standard
V Excitation (400-410nm) standard
Reflected Illumination System : quadruple reflected fluorescence illuminator with iris field diaphragm and aperture diaphragm, with florescence filter (B/G/UV/V) 100W Mercury lamp house,
Digital power controller, wide voltage 100-240 VAC. Imported OSRAM 100W Mercury lamp.
Transmitted Illuminator: 3 watt LED Kohler lamp house for transmitted light, centre pre-set, intensity adjustable.
Standard Accessories: 12V/100W halogen tungsten bulb, Power cord and cedar oil.
Warranty: Two Years and One Year in electrical.
Contact Us
Near B.D High School, Ambala Cantt, Ambala Cantt, Haryana, 133001, India
Phone :+918037744478