Revolutionary General Purpose Centrifuge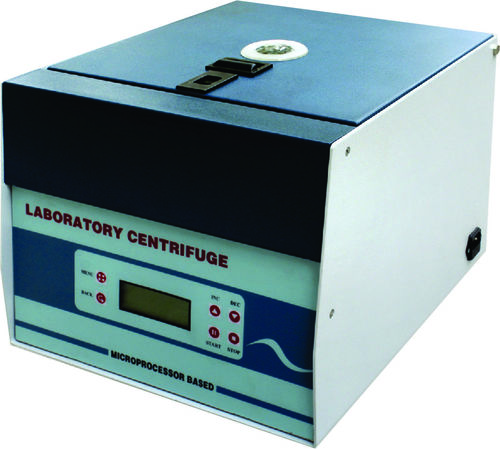 Revolutionary General Purpose Centrifuge
Product Description
Technical Specification:
General Purpose bench top laboratory centrifuge machine.
Heavy duty C.R.C. construction finished with powder coating.
Double walled ABS injection moulded lid which is light weight to avoid accident.
Inter lid lock and metallic centrifuge for bowl safety.
Microprocessor based programmable speed control from 500 to 5200 r.p.m depending upon the type of rotor and Digital timer (0-59 minutes).
4 lines 20 characters LCD display for set time, run time, set and run rpm. Rcf.
Last test parameter recall and display automatically on LCD.
50 programmes can be stored in memory and automatic rotor identification on display.
Additional electronic lid lock which does not allow to open lid when machine is running and opens automatically after centrifuge time is over. Calibration window on lid.
Dynamic brake (automatic) and imbalance detector are provided.
Selection of 3 acceleration +4 deceleration profile with fast spin option.
Technical Parameter:
Max Speed- 5200 r.p.m
Max. RCF g- 3600
Max. capacity- 400ml
Motor- Universal Motor (1/8H.P) (fitted with carbon brushless)
Power- AC 220V 50 Hz+ 10%
Dimension of Machine- 415mm, 360mm, 305mm
Dimension of outer box.- 510 x 510 x 390mm
Nett Weight- 21 kg. Approx Gross weight with box = 23.5 kg
Price of machines are without rotor head which can be selected by customer as per their specific requirement from variety of rotors as under at extra cost.
Rotor TypeRotor Capacity-Speed R.P.M- Max. R.C.F

Swing out16X15mlx 4400x 2750
Swing out12x15mlx 4400x 2750
Swing out8x15mlx 5200x 3000
Swing out6x50mlx 4000x 2850
Swing out4x50mlx 4400x2750
Angle Head16x15mlx 5250x 3600
Angle Head12x15mlx 5250x 3600
Angle Head8x15mlx 5250x 3600
Angle Head6x50mlx 5250x 3600
Angle Head4x50mlx 5250x 3600
Angle Head4x100mlx4000x 2850
Angle Head24x15mlx 4000x 2850
Angle Head24 vacuutainers - 4000x 2850
Angle Head32 tube of 12x75mm x4000x 2850
Angle Head12x100mm of Borosil for serum separation4000x 2850.
Kindly visit our website www.weswox.com for more product details or contact us at 9812002599

Contact Us
Near B.D High School, Ambala Cantt, Ambala Cantt, Haryana, 133001, India
Phone :+918037744478