Stereo Zoom Microscope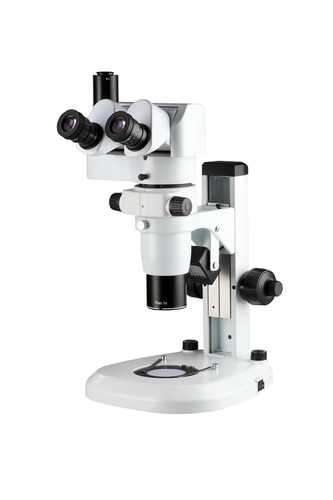 Stereo Zoom Microscope
Product Description
Stereo Zoom Microscope
Trinocular Observation Head:Galileo optical system left &
right parallel optical path. Observation head inclined from 35
Vertical photo tube for micro photography. Diopter adjustment
ring on ocular tube. Inter-pupillary distance from 55mm to 75mm.
Eyepiece: Wide field 10X (paired) F.O.V. 24mm.
Zooming Range & Ratio: Zoom 0.66X to 5.1 with magnification
ratio of 1:7:8
Magnification Range: 6.6Xto 5.1X.
Working Distance:110 mm
Mechanical Body: Track stand with fan type base. Base Size is 330mm X 300mm Incident and transmitted light system with LED lamp. The system regulated with transformer has intensity control knob. On/off switch to provide flexibility to use either both light or any of them.Clip for holding specimen. Lateral zoom control movement.
Optional Accessories: 0.5x Auxiliary Lens, 2x Auxiliary lens.
Standard Accessories: Operating manual, dust cover, guarantee card and styro foam molded pack.
Contact Us
Near B.D High School, Ambala Cantt, Ambala Cantt, Haryana, 133001, India
Phone :+918037744478