Transmitted Polarising Microscope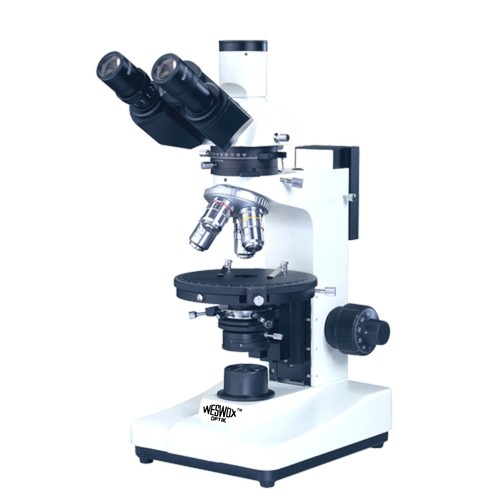 Transmitted Polarising Microscope
Product Description
Transmitted Polarising Microscope (Research Model)
TECHNICAL SPECIFICATIONS:

MECHANICAL BODY
Single mold sturdy stand with anti rust materials.
TRINOCULAR OBSERVATION HEAD
Siedentopf Trinocular 30o inclined 360o rotatable. Interpupillary distance adjustable between 48-75mm. Diopter adjustments ring in at least one eyepiece.
EYEPIECES
Extra Wide Field 10x (PAIRED) FOV 20mm.
NOSEPIECE
Quadruple nosepiece revolves on ball bearing.
ANALYZER
Rotatable analyzer with graduation 0 o -90o
OBJECTIVES
STAIN FREE PLAN ACHROMATIC 4X.
STAIN FREE PLAN ACHROMATIC 10X.
STAIN FREE PLAN ACHROMATIC 40X.
STAIN FREE PLAN ACHROMATIC 60X.
CIRCULAR ROTATING MECHANICAL STAGE
Rotatable Large 170mm diameter circular rotating (360o) stage utilize ball bearing i.e. graduated in 1o increment and include a vernier reading to 6 . Stage rotation lock screw & stage centering knobs provided.
CONDENSER
Strain Free Polarizing condenser N.A. 0.9/0.25 with adjustable iris diaphragm and filter holder.
FOCUSING
Co-axial focusing control with ball bearing guide ways & large knobs, pre focusing lever & tension adjustment ring. The slow motion has 1DIV=2microns.
COMPENSATOR
Gyps 1 (dia. 18mm, 1st order red compensator plate, 550 nanometers) Mica (dia. 18mm, 147.3 nanometers) Quartz Wedge (12 X 28mm, I-IV)
POLARIZER WITH LOCK
Can be rotated 360o.
ILLUMINATION
Incorporates transmitted 12V/20W lamp.
POWER SUPPLY
220-240V, 50/60 Hz.
WARRANTY
2 years
STANDARD ACCESSORIES
Operating manual, STYRO FOAM Molded Pack ,filters. Lens cleaning cloth.
Contact Us
Near B.D High School, Ambala Cantt, Ambala Cantt, Haryana, 133001, India
Phone :+918037744478