Weswox Advance Rotary Microtome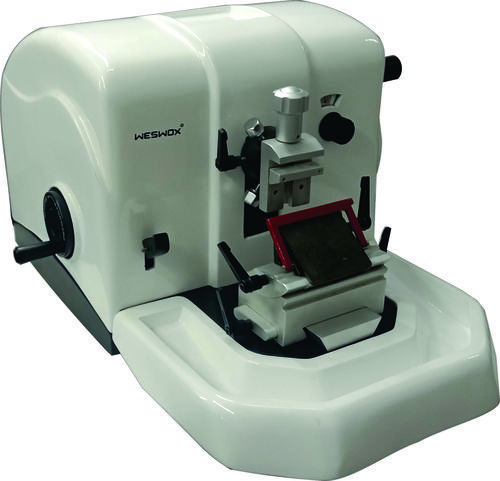 Weswox Advance Rotary Microtome
Product Description
Weswox Advance Rotary Microtome
TECHNICAL SPECIFICATIONS:
Rust proof construction.
Manual Microtome with specimen feed system.
Lockable hand wheel at any position allowing change of blade/specimen easier and safe.
Lateral knife adjustment to ensure that the entire width of the blade is used without releasing the blade clamping mechanism.
Large storage capacity on the top of the instrument for easy access of tools.
Finger protection guard to protect the used from any injuries caused due to blade.
Robust and stable base plate for max/imum stability to the microtome.
Ergonomic and user friendly design.
Section Waste tray to collect section waste and is easily removable for cleaning purposes.
High Precision Specimen feed.
Section/Trimming Thickness Range :0.5m-60m
Setting Values: 1m-10m in 1m increments.
10m-20m in 1m increments
20 m-60 m in 5m increments.
Minimum Setting Value: 1m
Object feed: 28mm
Vertical stroke: 60mm
Specimen horizontal feed: 28mm
Specimen Orientation: x- and y-axes : universal 8o
Z-axis: up to 360o
Max. Specimen size : 50x50mm.
Operation: Manual.
Weight: 35 kg.
Standard accessories: High profile disposable blades pkt of 50 nos
Warranty: 2 year warranty Extended warranty & CMC Can be provided on request.
Certification: ISO & European CE certified.
Other Description mentioned in e-brochure.
Contact Us
Near B.D High School, Ambala Cantt, Ambala Cantt, Haryana, 133001, India
Phone :+918037744478