Weswox Monocular Metallurgical Microscope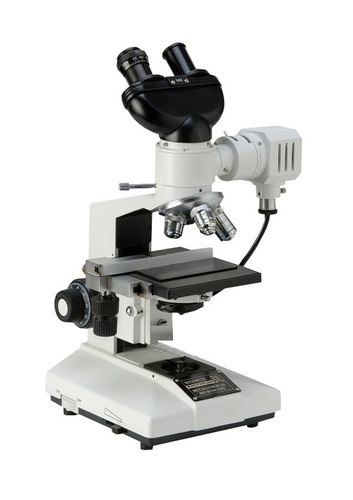 Weswox Monocular Metallurgical Microscope
Product Description
Our goodwill in this industry can profoundly be attributed to our huge assortment of Weswox Monocular Metallurgical Microscope that is made up of best grade required materials with the help of sophisticated engineering techniques. This item is needed in the laboratory for some applications like inspecting, identifying and measuring microscopic metal grain structures. It is superb in performance and durability. Our interested patrons can buy Weswox Monocular Metallurgical Microscope from us at marginal price rate within the promised time frame.
Technical Specifications:
Stand : Rigid & Heavy Single Mold Aluminum Die-cast Stand.
Observation Head : Monocular Observation Head Inclined At 45O Rotatable Through 360O With Adjustable Interpupillary Distance And Diopeterical Focussing Arrangement.
Eyepiece : Keowa Wf10X & Wf15X Anti-fungal.
Nosepiece : Quadruple Revolving Nosepiece With Positive Click Stops And Rubber Grip.
Objectives : Keowa M10X, M20X & M40X (Sl) Anti-fungal.
Stage : Graduated Rectangular Mechanical Stage Of Size 120X140Mm Having Low Positioned Co-axial Controls.
Focusing : Co-axial Coarse And Fine Focussing On Ball Drive System For Smooth Operation.
Condenser : Focussable Abbe Two Lens Type Na 1.25 Condenser With Iris Diaphragm And Swing Out Filter Holder With Blue Filter.
Illumination : Bright Field Vertical Illuminator With Halogen Lamp 6V-20W Works On Variable Transformer With Adjustable Field And Aperture Iris Diaphragm With Slots For Dropping Colored Filters. Provides Excellent Bright Field In Incident Illumination Of Opaque Or Semi-opaque Specimens.
Packaging Contents : Blue, Green Filters & Dust Cover, Keowa Optics Bears Three Years Warranty Against Any Manufacturing Defects.
Contact Us
Near B.D High School, Ambala Cantt, Ambala Cantt, Haryana, 133001, India
Phone :+918037744478